[KMC Riders]KMC Rider Wins First Race of KMC MTB Bundesliga International Series
Updated : 2014-05-14
Being a Title Sponsor, KMC is joyful to see that KMC riders got great results in the KMC MTB Bundesliga International in Saalhausen where Ruben Scheire (Feenstra Bike Team) claimed the victory in the men's elite class, Sabine Spitz took her 16th national title in the Eliminator, and Kevin Panhuyzen (Trek-KMC Trade Team) took No.3 in the U23 class.
The first round of the KMC MTB Bundesliga International included the German Championships Eliminator race and a UCI class 1 cross-country race. Rain drenched the 800-meter course, and the distance and muddy conditions had an effect on the result for the Eliminator race. "The wet and physically demanding conditions were on my side. I didn't think about the title when I come here," Sabine Spitz told the media, "It's great that the Sprint-grandmother could beat the young," she said with a big smile. This is her first Eliminator national title. (Right: poduim of German Championships Eliminator race)
On the day two, Ruben Scheire took a solo win in the men's elite cross-country race from two strong competitors. "When I saw that there are 20 seconds, I just drove on. I felt great, and I am really happy and can't believe I beat my hero Manuel Fumic." This year is his first year in the elite class, and he has proven himself through his great performance.
(Left: Rube Scheire; Right: Kevin Panhuyzen)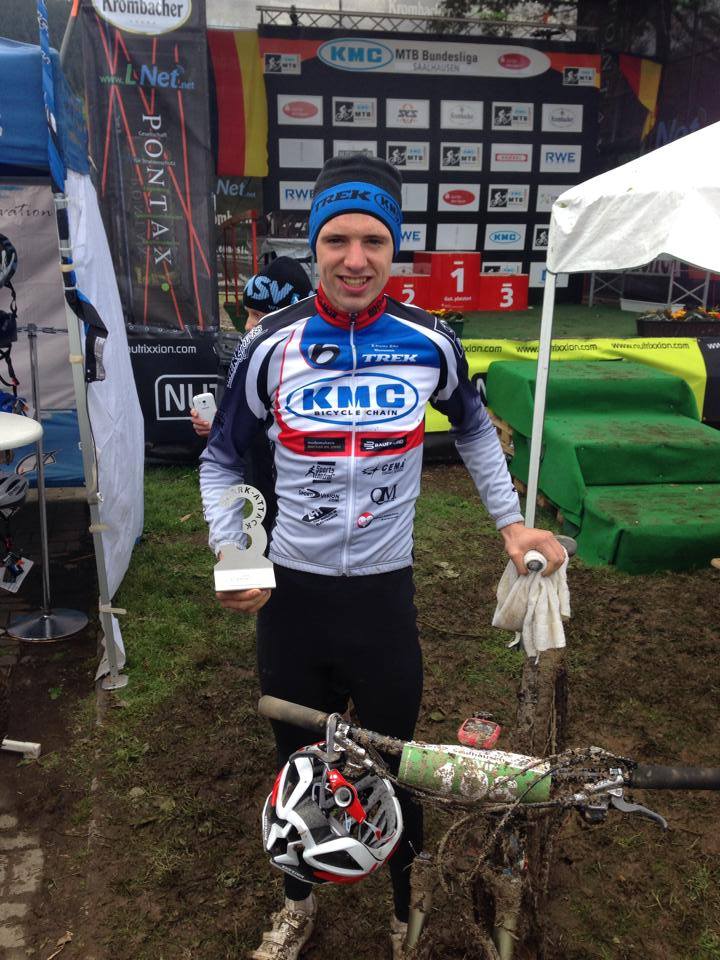 There are four rounds in the KMC MTB Bundesliga International 2014, including two HC Class races, one Class 2 race, and the German Cross-Country National Championships. It makes the Bundesliga the only series worldwide to have two HC events in the UCI international competitions calendar. There are only eight HC events worldwide.
KMC MTB Bundesliga International 2014
5/17-18: Heubach (HC)
7/12-13: Schopp (C2)
7/19-20: Bad Säckingen (German Cross-Country National Championships)
9/13-14: Bad Salzdetfurth (HC)(double points)